Pardon me for copying much of my last year's mentor post. It's pretty close to this year's.
Who I am and why you want this Canadian to be your mentor.
My name is Tamara Mataya, though you probably know me as Feaky Snucker, as seen on The Internet.
My Nan always said that self-praise is no recommendation, but this is a contest and knowledge is power.
I'm a New York Times and USA Today Bestselling Author repped by Nicole Resciniti. I'm a naughty librarian and musician. I write romantic friction (wink wink), literary fiction, romantic comedy, dark contemporary, and sexy urban fantasy. I've even got some techno-thrillers in the mix. My muse needs a bitch slap because she doesn't understand branding.
I'm a bisexual woman with Synaesthesia, Misophonia, and an autoimmune thyroid disease.
In addition to being a voracious reader, and a librarian (even at my day job I'm surrounded by books), I'm a freelance editor. I've edited for USA Today and NYT bestsellers. In addition to developmental edits, I'll be weeding through your MS line-by-line, probably bitching at you for using dialogue tags.
I read widely to better recommend books to patrons at the library, which means I'm informed about what works and what doesn't across the board when it comes to different genres. Subjectivity notwithstanding, of course.
I'm the co-creator of PITCHMAS, a pitch contest run with my critique partner Jessa Russo. Running that contest has been invaluable for learning what agents are looking for—and how to craft pitches that work.
One time, I got to YES on query shark—after an embarrassing amount of revisions.
I didn't even have a critique partner back then, and my sensitive writer skin was pretty much translucent, but I didn't give up—and I won't let you give up either. Other people's queries are one of my favourite things to help with—so if you choose me, you're getting that as well!
What I want to see in my #Pitchwars inbox:
I'm an NA/A mentor, so please keep that in mind. This means I mentor BOTH New Adult AND Adult, FYI.
-I'm SO open to anything LGBTQIA+
-#OwnVoices
-High concepts across the board, though that's NOT mandatory. I love the quieter books as well.
-Diversity that isn't the plot. If you have a _____ MC, please don't let that be the plot. That should be a part of the story, not the whole thing. We are not our disorders, we are not our sexuality, we are not our "other." Those are one aspect of our lives. I'm bisexual with synaesthesia. But I have a life to live WHILE I'm bisexual with synaesthesia.
-I'm all about the humour across the board, and will probably point out a few That's What She Saids in your MS if you leave them in there. Give me an opening and I'll burst through it like the Kool Aid man. I love Max Barry and John Niven's subversive humour and social commentary.

Even in erotica or erotic romance, if you give me something sexy that makes me laugh (think WALLBANGER by Alice Clayton, CAN YOU KEEP A SECRET by Sophie Kinsella (closed door sex scenes are okay too), STRINGS by Kendall Grey, or PUCKED by Helena Hunting) I'll lobster knife fight for you.
-I'm a sucker for an HEA. You can take me to dark places, but I prefer to be brought out of them. In romance, HEAs are mandatory.
-I love Urban Fantasy, but it's got to bring something unique. I'm extremely fussy when it comes to witches. My favourite Urban Fantasy authors are Charles de Lint, Karen Marie Moning, CE Murphy, and Christopher Moore. Will Shetterly and Emma Bull's WAR FOR THE OAKS is another fave. Basically, the original Bordertown books blow my hair back.
Other series I like:
*Mark Henry's Amanda Feral
*Jeaniene Frost's Night Huntress
-I love conspiracy theories and secret societies!
-If it's erotica or BDSM, or erotic romance, make it smart. Make it grab me by the ovaries and not let go! Think Tiffany Reisz, L. Marie Adeline, Christina Lauren, or Cat Montmorency, who weave in diversity while turning you on.
-If it's dark or taboo, make sure there's a reason for it. I don't want gratuitous anything.

-I like Historical Fiction, but I'm super fussy about it. I'm a sucker for Egypt, though, especially if it's in the vein of Wilbur Smith's River God series, or Elizabeth Peters' Amelia Peabody series.
Beyond that, what I'm looking for can pretty much be summed up in seven words: I'll know it when I see it.

What's more important is what I need from my mentee.
I can't help you if you think your words are perfect. I need someone who WANTS to improve.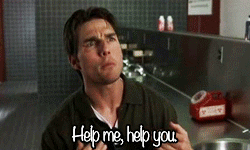 I want someone who understands that while I will shake my, uh, pompoms for you until they ache, cheerleading isn't the main thing you're going to get from me. I will choose the MS I believe I can make better because I want to take you to the next level. Because I'm editorial, this means there will likely be a lot of work, but my criticism will always be constructive--and while I'm thorough, I would never edit YOUR voice out of your manuscript.
It's not going to be easy. It's WORK. Writing is WORK, and anyone who tells you differently is lying to your face! But my Jillian Michaels-like toughness will be tempered with humour and the fact that I sincerely care and want to help.
Now, pay attention because this is important.
What I do NOT want for submissions:
It's not that these are all necessarily terrible things, but they're NOT right for ME.
-Novels in verse
-NA with broken characters with tragic pasts whose traumas are magically healed through magic sex.
-Hard Sci-fi.
-Dystopian/Post Apocalyptic.
-Fairytale retellings.
-Witches, vampires, mermaids, and fae are a harder sell for me, so keep that in mind. It's not a NO, but they'll have to wow me.
-If it's an erotic romance and your MC is a virgin, it's probably not for me.
-Stalkers for love interests unless there's a twist.
-Rape/sexual assault as a plot point as this is a trigger for me.
-Incest/pseudo incest.
As you can see there's very little I won't have a look at. I love writing different genres and I love reading them.


If you've made it this far, and I still seem like a good fit, woohoo! I will be your biggest champion, toughest critic, and biggest supporter.
It will be intense, but I promise, I will do my damnedest to make your work shine and take it to the next level.
OK. That about sums it up for what I want to see in my slush pile.
Find me on Twitter!
And to all the other mentors?
1.

2.

3.

4.

5.

6.

7.

8.

9.

10.

11.

12.

13.

14.

15.

16.

17.

18.

19.

20.

21.

22.

23.

24.

25.

26.

27.

28.

29.

30.

31.

32.